Its time to choose a Marathon to Boston Qualify. I've spent a year not working and have enjoyed virtually uninterrupted training. I feel confident, and like there is no better time than the present to see what my body can perform. Life has a tendency to get in the way even when I have the best intentions, and I'm in great cardiovascular shape.
I have been running almost exclusively for the past seven months. I'm ten weeks into my marathon training program, to which I have been more or less dedicated to when I was in Florida and now in New York. The next move is to find a fast, flat, Boston qualifying race and make the qualifying time of 3 hours and 5 minutes.
There are a few races that look promising that are coming up. Lucky for me, many of the fastest boston qualifiers are a short way from Portland, Oregon where I will be living. Last years top qualifying races are listed on marathonguide.com.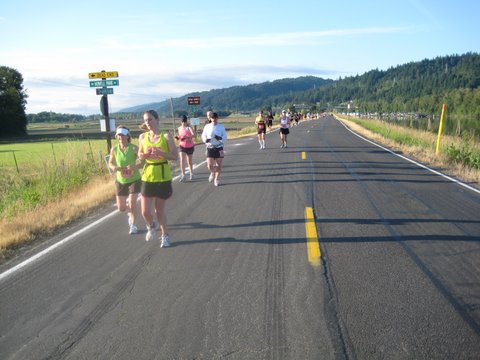 Foot Traffic Flat
July 4, 2014
where: Outside Portland, OR
website: foottraffic.us/flat
cost: $93.66 Before June 1
This race is run on Sauvie Island, just 15 minutes north of Portland. Its a fast and flat course that runs through the countryside without the spectators or amenities of other races. There is just one hill on the course, and its laughable by Upstate New York standards.
This is a small-town race that will be run right around the last week of my training program.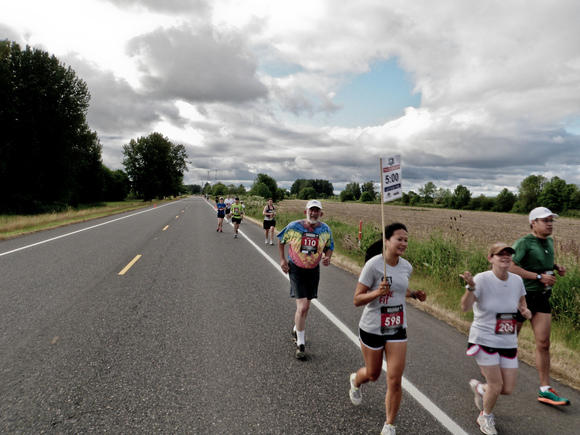 Vancouver USA
June 15, 2014
where: Outside Portland, OR
website: vancouverusamarathon.com
cost: $100
Vancouver, Washington is just 15 minutes north of Portland. The marathon is capped at 5,000 registrants and runs through the streets of Vancouver. The race offers features to enjoy aside from running. There are race sponsored festivities as well as the Saturday market and a Brewfest.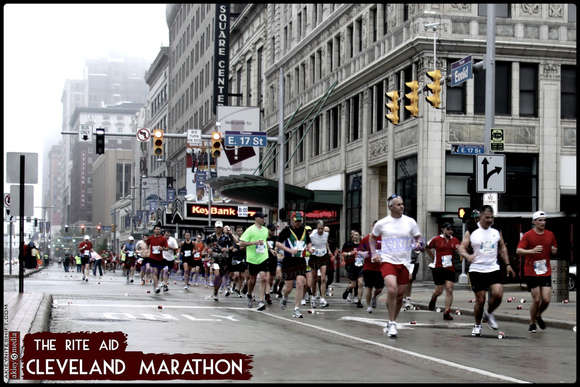 Rite Aid Cleveland Marathon
May 18, 2014
where: Cleveland, OH
website: clevelandmarathon.com
cost: -
Since my search for a race started today, its well past registration close and there is no chance for a taper before this race. Still, if someone replies to my Craigslist post to transfer to me their registration (if they can't run for some reason) you can bet that I will be there. Cleveland is only a four hour drive and I am ready to run already. Lets do this!
Still Time
I don't have to choose right away. I'm going to head out to Portland as soon as my teardrop trailer is in running order. That may take a week or even a few. But, gun to my head, I'd say that the July 4th Foot Traffic Flat seems to make the most sense with my timeline.
Can I qualify today? I think I have a good shot. I know I can run a half marathon in Boston qualifying time. I have run short distances at tempo and felt good, and having a 40 mile run under my belt gives me confidence. I just don't yet know whether I can put the two together and run all 26.2 miles at a 7 minute pace.
The Data Speaks
I have amassed quite a bit of data using my Polar Polar RS800CX Heart Rate Monitor/GPS. I was playing around with the filters to see where I stand ad various paces at different distances. I can see where I fell short of my 6-day-a-week running regimen and how I have become more consistent. The changes in total workout time per week reflects the variance in distance and pacing. I can see the amount of effort my heart was putting in during my runs. The distance travelled each week and how my heart rate varied.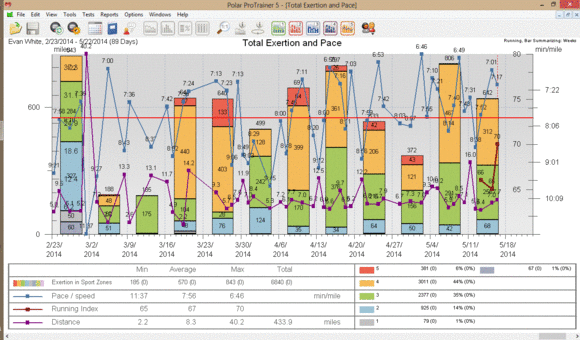 The most complete graph is "Total Exhertion and Pace" with bars that give an indication of the training volume and the stress on my heart that I've put in as well as the distance and pace. Its a busy graph but it gives me a lot of detail.
After playing with my watch settings I was able to start tracking a Running Index. Its a calculation proprietary to Polar that indicates how efficiently I am running based on my heart-rate and pace. Right now I'm in the 60-70 range which Polar says is excellent. I'll try to push this efficiency as far as I can going into the last few weeks of my preparation.