After a long time pondering the electrical system I decided that I would be fine using just a flashlight and that the more pressing issue was the leaking. I can't take the trailer anywhere with water coming in.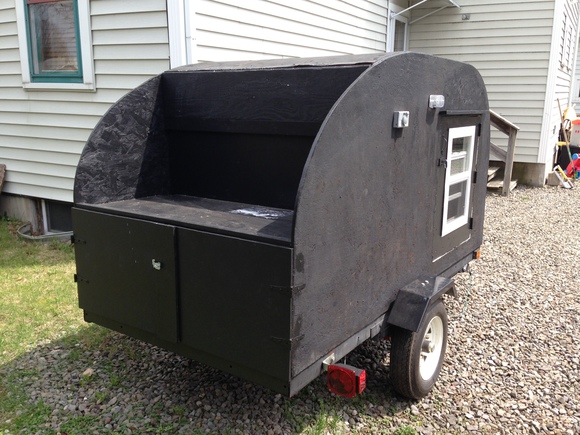 The trailer has been coated with what I think is asphalt sealer for waterproofing. While this might work more-or-less, the shelf was installed with gaps for water to seep into and there is a seam at the edge of the roof where water is channeled into. I want a hatch to keep the rain out and make this look like a teardrop. There are many hatch designs, but I found simple instructions for making a hatch and used them.
First, I took off the plywood of the aft bulkhead to open up the space between the galley and the cabin and see what kind of surface I had to work with. The roof is 1/4" plywood and is poor shape so I intend to replace it. The mounting surface is a 2"x4" and its solid.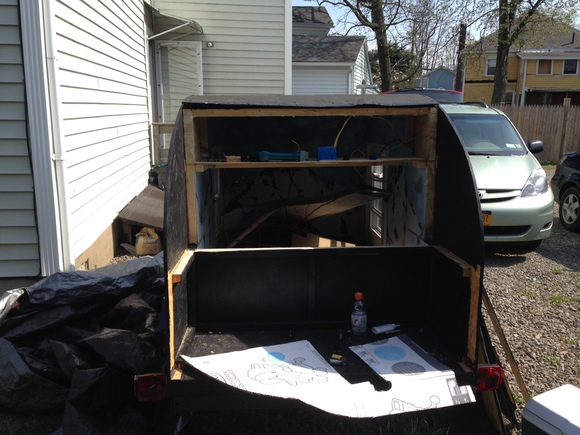 I used cardboard to trace the outline of my side wall and took the templates and the plywood from the the old galley shelf to my parents house. My dad let me borrow his scroll saw to cut the frame.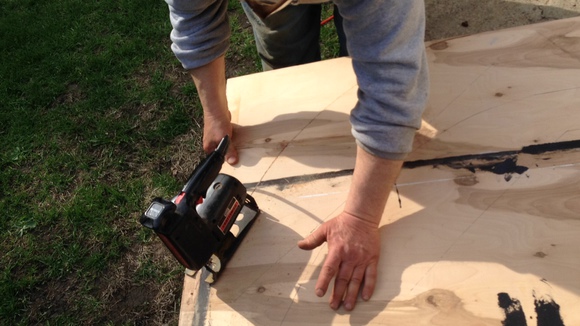 Then I bought some 2"x2"s for the ribs and screwed together the frame seated in the back of the trailer to check my clearances.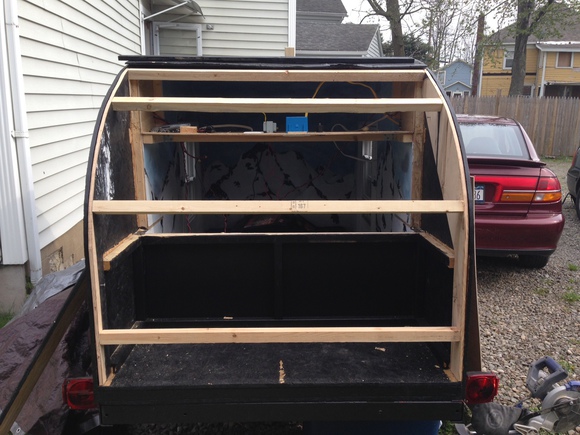 The next day I went to the hardware store for some plywood sheets for the skin. I strapped the plywood and a sheet of insulation to the back of my baja with a bunch of straps and not too much trouble and brought it home.
I screwed the skin to the ribs and it bent pretty easily. There are some gaps that needed a some clamps which my dad loaned to me.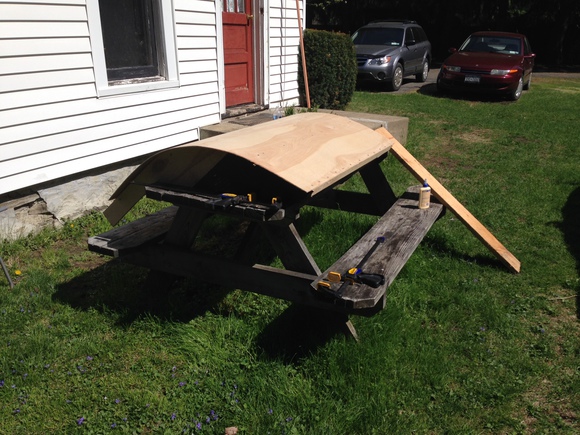 Now, with the hatch where it belongs this trailer look like a teardrop.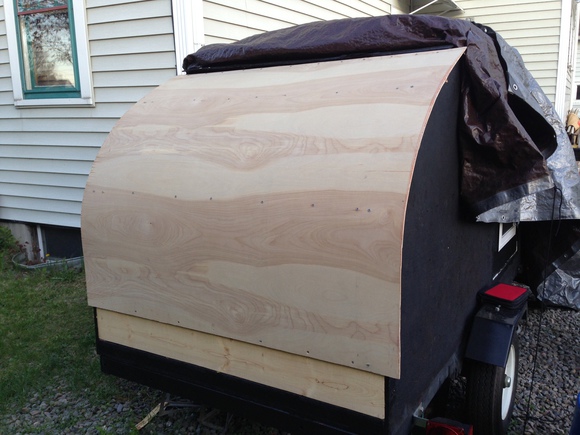 As for waterproofing, I have silicone caulk that I will fill the seams, gaps, and screw holes with to make sure they keep water out. Sealing the wood is a tough call, because I know Clear Polyurethane Epoxy CPES is effective and expensive, while Mineral Spirits & Polyurethane Varnish is cheap and promises to be adequate from what I read on tntt.com. Since I don't have the money to splurge, I'm going to go cheap and cross my fingers.
I ordered a Hurricane Hinge to attach the hatch and keep out water since they are so commonly used. I've been thinking to cheaply add edge trim by cutting 1"x2"s or by finding some cheap aluminum flashing. I'll add a hatch seal to keep out the weather and a latch to keep the hatch closed.