I'm moving to Oregon shortly, and have some things that I need to carry in tow. The price to rent a UHaul trailer for the trip was over $500 so I thought I would just buy a trailer instead. Looking on CraigsList, I found this homemade teardrop trailer.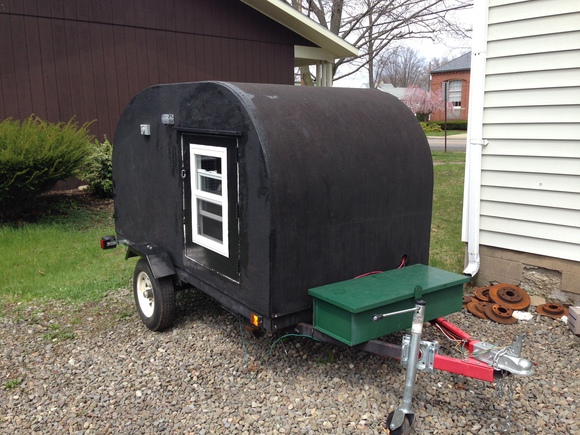 It has less room than a 5x8 utility trailer but I can sleep in it, and with a little wiring, have electrical hookups too. That may come in handy when I arrive in Portland with no place to go--I can find a campsite!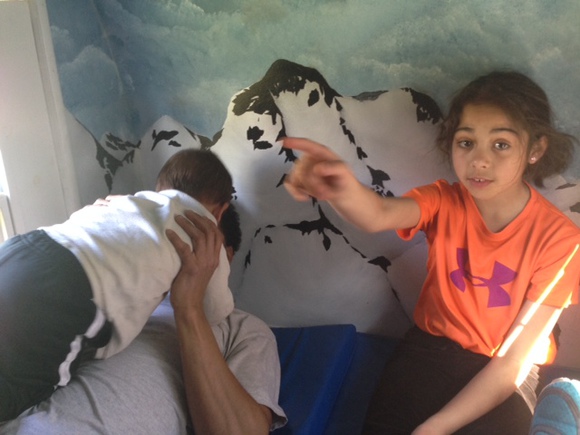 The best thing about the trailer is that the cabin has a really cool paint job. There is a good amount of room for such a small trailer.
Work In Progress
There are two major issues with the trailer. The wiring isn't complete and the galley hasn't been enclosed. That means no lights and leaks so there is some major work to do before I head west.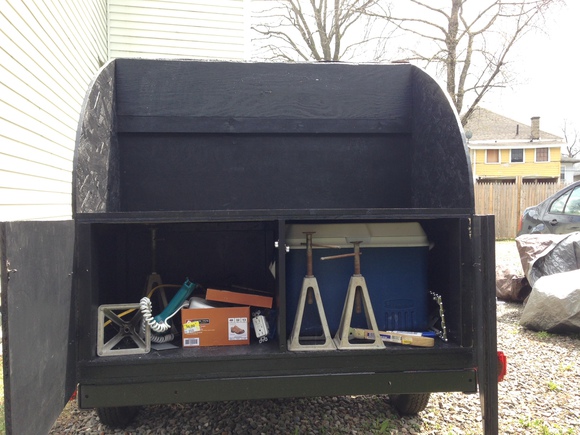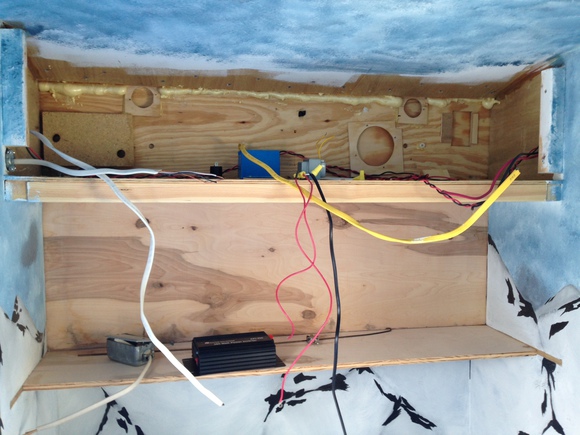 Trailer Lights
The electrical system for the lights wasn't properly grounded and the lights weren't working. I don't know much about electrical systems so I took to the youtubes and learned what I needed to know. I find that the electrical system in cars and RVs is set up so that the return path for electricity is the chassis ground through the body of the trailer.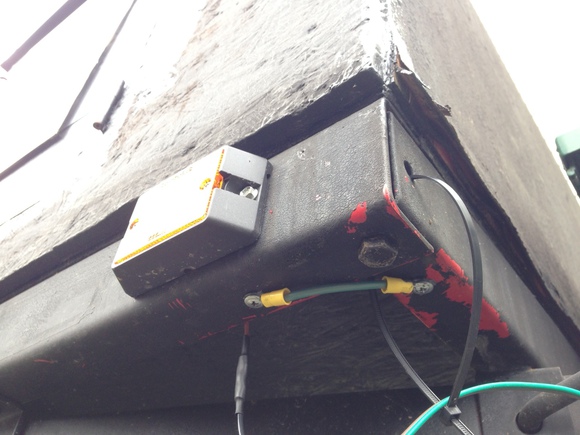 Each of the sections of my frame was fully insulated from its factory paint coat, so to ground the frame I had to run wires between each of the sections of the frame (front and sides). There was also a layer of paint where the rear lights was bolted to the frame so I scraped the paint off establish ground. The side running lights aren't connected to the circuit so I had to tap lines.
Cabin Wiring
Lucky for me I was left with some electrical components. There is a 110 VAC outlet installed in the passenger side wall, to hookup to shore power.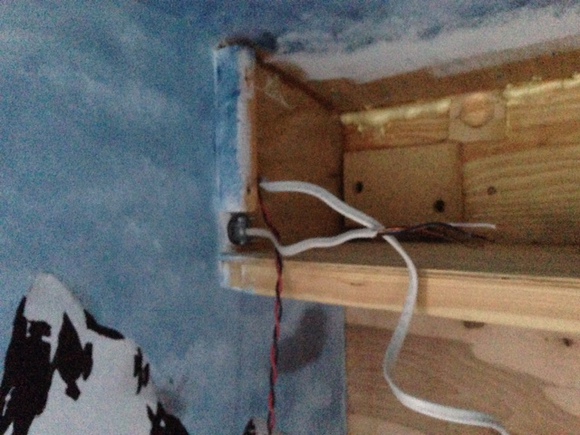 and both a GFCI and a 12 VDC outlet in the cabin.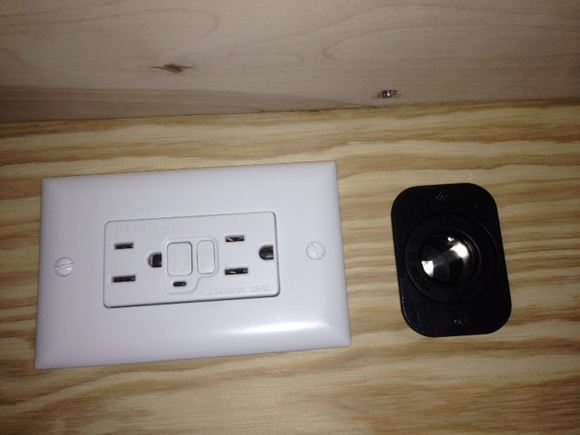 These aren't connected though. I need to do some wiring to connect to a terminal strip (or better) a fuse box for DC, and at junction box for the GCFI outlet (preferrably behind a breaker).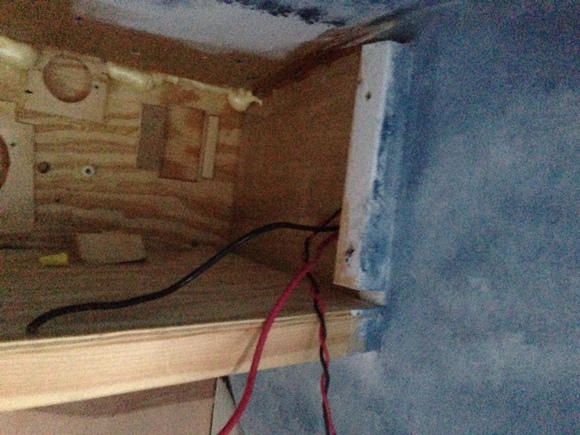 There is an inline fuse that I can use as a master fuse, a terminal strip, and a 120VAC to 13.5VAC component that is either a transformer or a relay switch--I'm not sure which.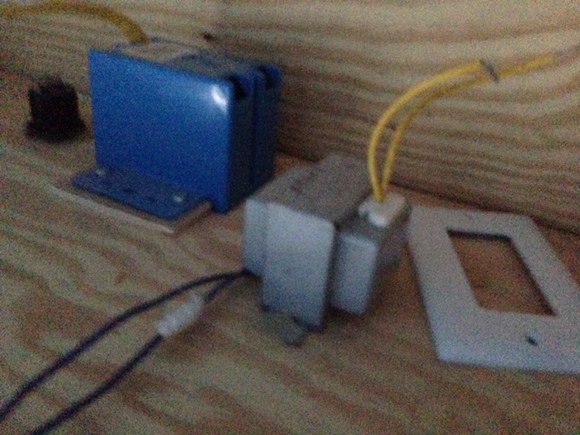 I already own an inverter for my car which I have never used. It is pretty low capacity at 360 watts, but I would only use it occasionally.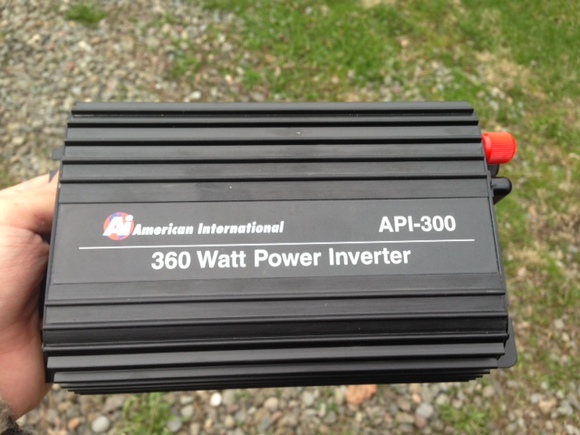 There are lines running on either side to the side porch lights and lines that run up to the front where the battery box will be mounted.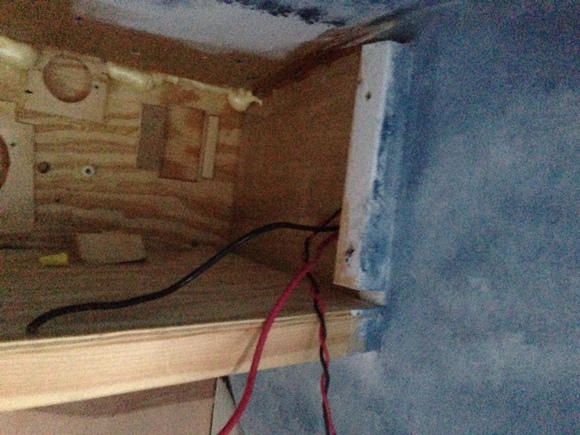 The trailer does come with two deep cycle 12V batteries in this makeshift battery box that I will have to mount to the frame. Each battery is rated for 32 A.H. @ 20 hours of discharge, so using them all day (20 hours) would give me 38 Watts to play with if I'm using it all day without recharging, and I guess 19 Watts if I only discharge to 50% d.o.d.
So my tasks for the DC electrical system include:
Mounting the battery box
Connect the Battery Bank
Connect the battery wires to the terminal strip
Connect the lights to the terminal strip
Connect the 12 VDC outlet to the terminal strip
Connect an inverter
Connect a charger to float charge the batteries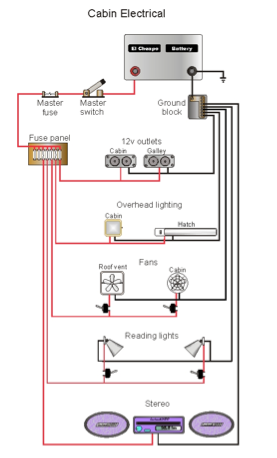 The chance to plug into shore power gives me power flexibility but makes things much more complex. I can introduce a relay, charger, or voltage regulator to add support for 110 devices like a TV or computer and save or charge batteries. To do this in a way that is safe for myself and my electronics gets expensive I will probably just add a breaker and run wire to the GFCI outlet that is already installed, but I'm still considering my options.
I found an RV Wiring Guide that explains the basics of an electrical system quite well, and electrical diagrams for fully featured RV systems for inspiration.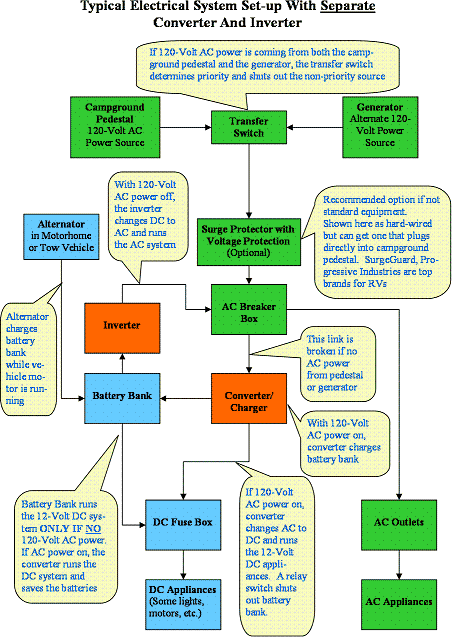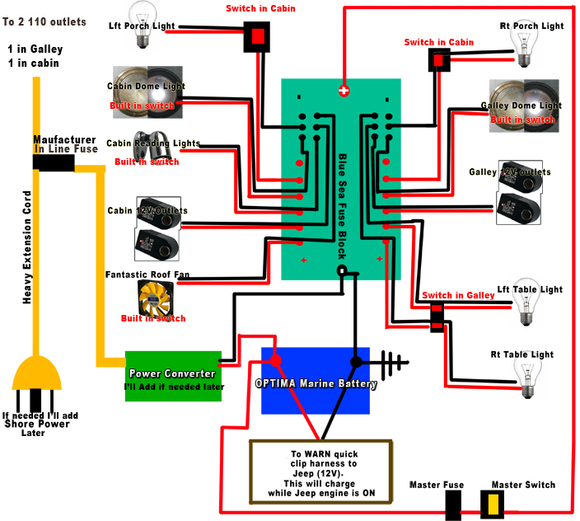 Stuff I might need
Inverter/Chargers: Getting 120VAC from the 12VDC battery bank and charging batteries when connected to Shore Power. Pure side wave inverters are less likely to fry your electrical. 3-4 stage chargers charge faster, more completely, & extend the battery life.
Relay Switch: Shut out battery bank when 120VAC is connected
AC Breaker/DC fuse box: Hub for electrical components
Voltage Regulator: Avoid spikes in voltage
Wires:
Romex Cable (#14 @ 15 amps #12 @ 20 amps)